Price: $299
If you're new to the RD1, check out our RD1 Help Section on how to get started.
 Download Now For Windows
 Download Now For Mac OS
Get rid of that cluttered cluster! Go from this:

To This (Custom install shown):

Install It Anywhere In Your Dash, Cluster, Or Any Other Spot You Can Think Of.
Includes TunerView Unit, Barrel Power Connector With Bare Leads (Power And Ground), USB Cable, Data Cable, 4 Screws/Nuts, And Buttons With Quick Attach Plugs.
5×3″ Black And White Display (4.7×2.5″ Active Area).
Fully Configurable Layouts With RD 1 Drag And Drop Design Software. Add Gauges, Bar Graphs, Real-Time Graphs, Text Items, And Lights Anywhere On The Screen.
Multiple Layout Pages.
Export And Share Layouts In The Online Community.
Setup And Monitor Custom Analog Sensors.
Odometer Support With Programmable Base Mileage And Trip Odometer.
Menu System With Easy Access To Settings And Features.
Warnings Above or Below A Set Threshold That Flash The Screen, Flash The Individual Item, Or Flash Both At The Same Time.
Supports NepTune, NepTune RTP (Original and Demon), NismoTronic SA, S300v1/v2/v3, K-Pro v2/v3, eCtune (Demon And CN2 Port), Crome (CN2 Port, No Demon), And AEM EMS v1 and v2.
Crome support uses the common Datalogging script 2.0
Upgradable Firmware For An Expanding Featureset.
Daisy Chain Multiple TunerView RD 1 and TunerView II LCDs To Display Different Data At Once. (Excludes AEM)
Datalog Through The TunerView With NepTune, NepTune RTP, and eCtune.
Backlight Adjustment.
Sleep Mode.
Disable Injectors For Security (NepTune RTP Only).
Switch Between Tunes Right From The Display (NepTune RTP Only).
Peak Values.
Settings For Celsius And KPH.
Check Codes On All OBD1 Systems, Clear Codes On All Except eCtune Demon. K-Pro Supports Clearing Codes Only.
BlueTooth Wireless Add-On Available For Wireless Setup And Datalogging.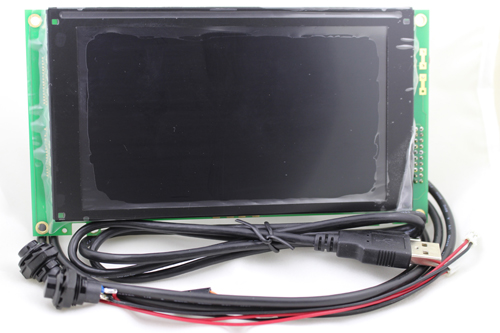 Invert the display for light or dark background.

Check out the videos.
Dimensions: