Base Price: $139 (Color options available)
Dimensions located at the bottom of the page.
 Download For Windows Now
 Download For Mac OS Now
Install It Anywhere In Your Dash, Cluster, Or Any Other Spot You Can Think Of.
Includes TunerView Dash Unit, USB Cable, Data Cable, 4 Screws/nuts, 2 Buttons (Only One Is Absolutely Necessary!)
Presoldered Wires For Buttons Which Includes Quick Disconnects For Easy Installation.
Upgradable Firmware For Expanding Featureset.
Daisy Chain Multiple TunerView II LCDs To Display Different Data At Once (Case Or Dash Kit).
Daisy Chain A TunerView I To The TunerView II (NepTune And eCtune Only).
Datalog Through The TunerView With NepTune, NepTune RTP, and eCtune.
Larger Processor For Even More Future Capabilities.
Completely Rewritten To Be Even More Efficient.
Setup And Monitor Custom Analog Sensors.
Backlight Adjustment (For Blue, White, And Red LCD Only.).
Sleep Mode.
Disable Injectors For Security (NepTune RTP Only).
Switch Between Tunes Right From The Display (NepTune RTP Only).
Supports NepTune, NepTune RTP, NismoTronic SA, eCtune, Crome (See below), and Uberdata (See below).
Natively Supports AEM EMS v1 And v2 With USB Module (Add-On).
Natively Supports S300v1/v2/v3 and K-Pro v2/v3 With USB Module (Add-On).
7 Data Pages – One Large Item Or Up To 8 Small Items Per Page. Add Spaces To Group Items.
Peak Values – AFR, Duty Cycle, ECT, IAT, MAP, RPM, TPS, and VSS.
Settings For Celsius And KPH.
Check And Clear Error Codes On All OBD1 Systems. K-Pro Supports Clearing Codes Only.
BlueTooth Wireless Add-On Available For Wireless Setup And Datalogging.
Multiple LCD Colors Available!
*Crome support uses the common Datalogging script 2.0

Available in Blue (Supports brightness control):


Amber (Does not support brightness control – always on full):


Yelow/Green (Does not support brightness control – always on full):


Red (Supports brightness control):


Bright White (Supports brightness control):


Black/Green (Does not support brightness control – always on full):

Item

NepTune Regular/RTP

eCtune

s300
K-Pro

Crome / Uberdata

RPM (Small or Large)

X

X

X
X

X

RPM Progress Bar

X

X

X
X

X

TPS (Small or Large)

X

X

X
X

X

TPS Progress Bar

X

X

X
X

X

TPS Voltage

X

X

X
X

X

Air/Fuel Ratio (Small or Large)

(Linear widebands only. Using O2, ELD, EGR Lift, or B6)

X

X

X
X

Via O2 Only

Air/Fuel Progress Bar

X

X

X
X

X

O2 Voltage

X

X

X
X

X

MAP (Small or Large)

(inHG,mBar,kPa,PSI,Bar)

X

X

X
X

X

MAP Voltage

X

X

X

X

Table Ignition Value

X

X

X
X

X

Actual Ignition Value

X

X

 

Duty Cycle (Small or Large)

X

X

X
X

X

IAT (Small or Large)

X

X

X
X

X

IAT Progress Bar

X

X

X
X

X

ECT (Small or Large)

X

X

X
X

X

ECT Progress Bar

X

X

X
X

X

Short Term Correction
X
X
X
Long Term Correction
X
X
X

PA

X

X

X
X

X

PA Voltage

X

X

X
X

X

VSS MPH or KPH (Large or Small)

X

X

X
X

X

Gear

X

X

X
X

X

ELD Voltage

X

X

X
X

Battery Voltage

X

X

X
X

X

4 Custom Programmed Sensors

X

X

X

ECU Inputs

X

X

X
X

X

ECU Outputs

X

X

X
X

X

Special Outputs

X

X

X
X

 

Check Error Codes

X

X

X

X

Clear Error Codes

X

X

X
X

X

PWM Duty

X

X

X
X

EBC Target Pressure

X
Unit dimensions (mm):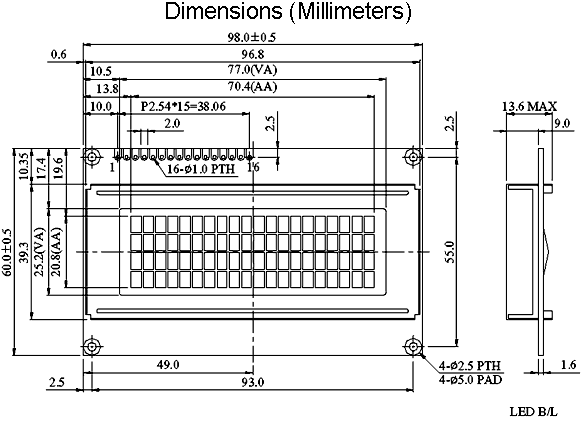 98 millimeters = 3.85826772 in
60 millimeters = 2.36220472 in
96.8 millimeters = 3.81102362 in
39.3 millimeters = 1.54724409 in
(VA) 77 millimeters = 3.03149606 in
(VA) 25.2 millimeters = 0.992125984 in
(AA) 70.4 millimeters = 2.77165354 in
(AA) 20.8 millimeters = 0.818897638 in